22,5 Millionen-Kapitalspritze für Magento

Nach über zwei Jahren Betrieb und einem beachtlichen Wachstum, steht die alternative E-Commerce-Lösung Magento (Open Source) vor einer respektablen Bilanz:
Shopbetreiber haben Magento als Alternative zur Entwicklung eigener Systemlösungen entdeckt. Und bei den Innovationstreibern ist Magento durch seine flexiblen Anpassungs- und Erweiterungsmöglichkeiten ohnehin das (Basis-)System der Wahl.

Bis Januar 2010 wurde die Software über 1,5 Mio. Mal runtergeladen und von über 30.000 Händlern eingesetzt. Nach Angaben von Magento liegt die Gesamthöhe der registrierten Transaktionen derzeit bei 25 Mrd. Dollar. Der beschriebene Siegeszug schlägt sich 2010 auch in der weiteren Planung nieder: Mobile Commerce und auch eine SaaS-Lösung, wie man unschwer an den derzeit anschwellenden Jobausschreibungen beobachten kann.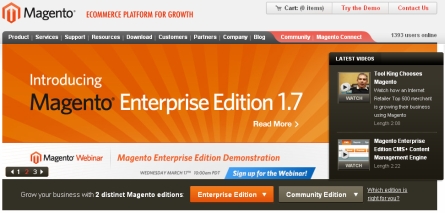 Grund genug, dass vor einigen Tagen bekanntgegeben wurde, dass Magento eine Kapitalspritze in Höhe von 22,5 Mio. Dollar erhalten hat.
Wer genau (die) Investor(en) war(en), hält Magento (noch) geheim und gibt sich bescheiden:
At Magento we look at everything we do against one measuring stick — "enabling the eCommerce ecosystem". Today's announcement that we've secured our first investment will further help us all continue to make this come true. While the terms of the deal are confidential, we're extremely excited about this investment and the capital will give us an even stronger foundation for growth as Magento continues to be adopted Worldwide.
---