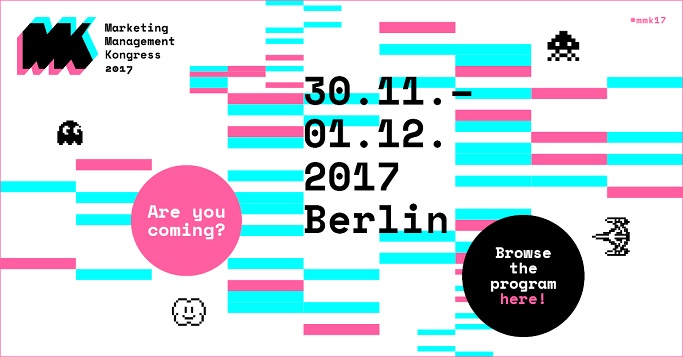 Vom 30.11.-1.12.2017 bietet der MMK zum dritten Mal rund 600 Marketers aus Deutschland, Osterreich und der Schweiz die Möglichkeit zum intensiven Austausch im Berliner Kongresszentrum bcc.
Das diesjährige Fokusthema "Start the Game" setzt auf Handlung und damit die Umsetzung aktueller theoretischer Erkenntnisse und Trends des digitalen Marketings. Dabei geht es um mehr als die neusten Plattformen und die hippste Content-Strategie: Wo liegt eigentlich mittlerweile die Kernkompetenz des Marketers?
In den letzten zwei Jahren wurden bereits die folgenden Erkenntnisse gewonnen:
Erfolgreiche Strategien sind ohne Einbindung der angrenzenden Abteilungen PR, Vertrieb und IT nicht denkbar.
Mehr und lauter ist definitiv keine Lösung.
Experience is Everything.
In diesem Jahr sollen diese Erkenntnisse endlich auch in die Tat umgesetzt werden. Auf dem Kongress teilen international renommierte Referenten ihre Erfahrungen in fünf Themensträngen, die das gesamte Handlungsfeld innovativer Marketers abdecken: von "Leadership & Organisation" über "Brand Purpose & Experience" und "Content & Channels" bis hin zu "Next Level" und "Analytics".
Auszug aus den spannenden Keynotes und Workshops:
Win in the expectation economy! David Mattin, Trendwatching
Instagram – Visual Storytelling in a Mobile World, Nadine Neubauer, Instagram
Vom Aschenputtel zur Königin – wie sieht erfolgreiche Markenführung aus? Ulrike Behrens, Lufthansa Systems
Driven Youth – Porsche's Approach to market to the Generation Y. Deniz Keskin, Porsche AG
Discover Growth beyond Social, Stefan Schmidt-Grell, Facebook Inc.
Zusätzlich werden am 2. Tag noch die Marketing Intelligence & Innovation Awards verliehen. Hier werden herausragende Vorreiter des digitalen Marketings in 24 Kategorien ausgezeichnet und gefeiert, unter anderem in den Bereichen: Influencer Marketing, Virtual Reality und Social Media Platform.
Jetzt Ticktes sichern & mit Handelskraft sparen!
Alle Infos zur Veranstaltung und Tickets findet ihr hier! Handelskraft-Leser bekommen mit dem Code PARTNERMMK17 ganze 300 € Rabatt!