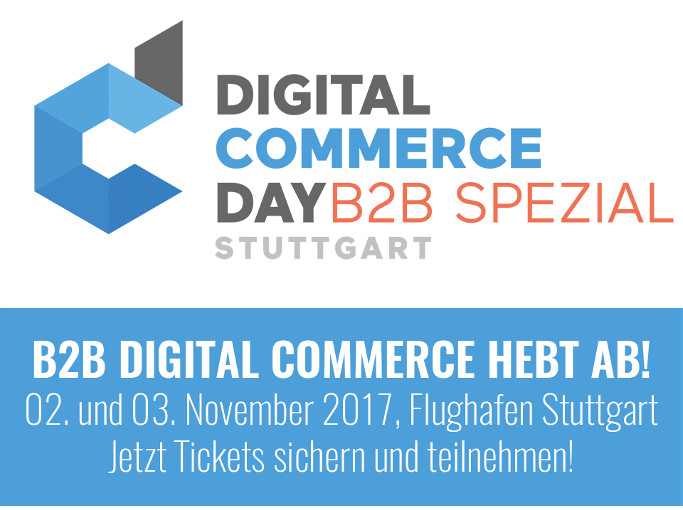 Bereits beim Digital Commerce Day im letzten Jahr zeigte sich, dass die Veranstaltung auch in der Mitte des B2B-Interesses angekommen ist. Aus diesem Grund bekommt der B2B-Sektor in diesem Jahr gleich mal seine eigene Veranstaltung. Unter dem Motto: »B2B Digital Commerce hebt ab« werden am 02. und 03. November in Stuttgart in Vorträgen und Masterclasses die neusten Trends, Strategien und Mittel für Deutschlands größten wirtschaftlichen Sektor diskutiert.
Das Programm bietet den 200 Besuchern am ersten Tag spannende Vorträge und anregende Diskussionen, unter anderem zu folgenden Themen:
Würth Gruppe – Omni-Channel, aber wie? Lessons-Learned aus der Würth-Gruppe [Moritz Schwarz]
Mercateo.com – Vernetzung schlägt Marktplatz – warum Intermediäre nicht das Epizentrum des B2B sind [Dr. Bernd Schönwälder]
Berner Group – Digitale Transformation eines Direktvertriebsunternehmens [Bernd Rackl]
InstaFreight – Digitalisierung der Transportlogistik [Philipp Ortwein]
Am zweiten Tag erhalten die Eventteilnehmer in den Masterclasses exklusive Einblicke und relevante Praxiserfahrungen aus erster Hand:
The Voice of B2B – Wie Sprachassistenzen wie Alexa die Customer Journey bereichern können
E-Commerce Integration in den Außendienst
Digitale Dynamik und neue Organisationsmodelle im B2B
Jetzt Tickets sichern!
Getreu dem Motto »B2B Digital Commerce hebt ab« findet die Veranstaltung am Flughafen Stuttgart statt. Das dient jedoch nicht nur der Symbolik, sondern sorgt auch für gute Erreichbarkeit von nah und fern. Wir sind als Partner der Konferenz vor Ort – seid auch dabei und sichert euch jetzt hier euer Ticket!