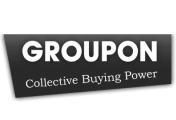 Als am Dienstag gemunkelt wurde, dass der Wert der US-Plattform Groupon, dessen Kopien auch hierzulande derzeit ordentlich auf die Tube drücken, Staub aufwirbeln und eine Runde nach der anderen abschließen, nach einer weiteren, derzeit durchlaufenden Finanzrunde auf 1,35 Mrd. US-Dollar, ja, angeschwollen ist, fand ich den Kommentar "Bubblelicious" äußerst treffend.
Nach heutiger Meldung, soll die derzeitige Kapitalrunde eine Gesamtsumme von gigantischen 130 Mio. US-Dollar betragen. Erst im Dezember sammelte Groupon 30 Mio. US-Dollar Kapital ein und steigerte damit seinen Wert auf 280 Mio.!
Techcrunch will aus einer Quelle erfahren haben, dass Groupon derzeit knapp 1 Mio. Dollar reinen Profit pro Woche generiert und für 2010 einen Gesamtumsatz von 350 Mio. anpeilt:
» We've also heard that the Accel round last December, $30 million, was also used to cash out insiders. Meaning the founders, employees and other insiders will be taking a whopping $160 million in secondary stock sales.

Why isn't Groupon raising the money for operations? Because it's making money hand over fist, say our sources. The company is generating $1 million or more per week in pure profit from the resale of steeply discounted local business products and services. Estimated 2010 revenue is $350 million. «
Ich finde das monströs. Sehr sogar.