Einige illustre Google-Veteranen, darunter auch Nathan Stoll, einst Google-News-Chef, arbeiten derzeit an einem neuen Suchmaschinenkonzept. Das Projekt mit dem Namen"The Mechanical Zoo" soll Nutzern in Zukunft die "soziale Suche" ermöglichen.
Das Konzept der "sozialen Suche" basiert auf der Idee, dass User bestimmte Informationen am besten in ihrem sozialen Netzwerk finden können. Nützlich wäre dies beispielsweise bei der Frage, welchen Kinofilm man sich grad nicht entgehen lassen sollte, oder wo man an diesem Wochenende besonders gut feiern gehen kann. Denn dabei handelt es sich um subjektive Fragen, die nur unter Berücksichtigung des persönlichen Geschmacks befriedigend beantwortet werden können. Wenn man davon ausgeht, dass der persönliche Geschmack eines Nutzers in seinem sozialen Netzwerk repräsentiert wird, dann ist es nur logisch sich die subjektiven Informationen genau dort zu beschaffen.
Zurzeit befindet sich The Mechanical Zoo aber noch in der geschlossenen Alpha-Testphase.
Einer der Gründer äußerte sich jüngst wie folgt zum Projekt:
» We've developed an online social structure that lets users reach out to people they already know for answers. «
In meinen Ohren klingt das auf jeden Fall nach einer spannenden Idee. Es bleibt aber abzuwarten wie das Konzept umgesetzt wird und ob es halten kann was es verspricht.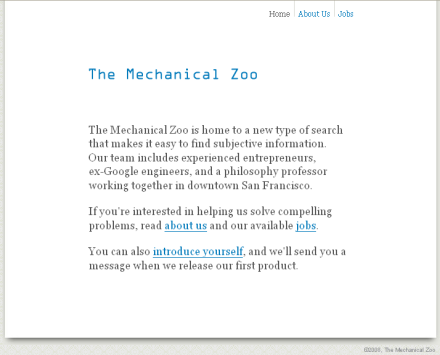 Via: news.com