Der Pixelgangster bringt mich auf eine interessante Seite zum Thema Ranking in Google.
Auf seomoz.org gibt's nen Artikel zu diesem Thema, der die Ranking-Problematik von 37 Experten auseinander dividiert hat.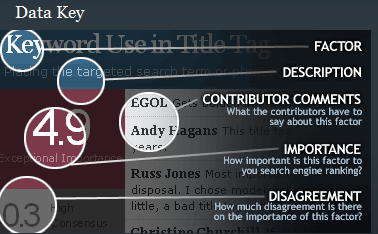 Hier heißt es [Eigene Übersetzung]:
» Dieses Dokument präsentiert das kollektive Wissen von 37 führenden Experten für Google Suchmaschinen-Optimierung. Zusammen haben sie die unterschiedlichsten Einflussfaktoren gewählt, welche geschätzter Weise der Google Ranking-Algorithmus (die Methode, mit welcher die Suchmaschinenergebnisse sortiert werden) beinhaltet.

Das Resultat ist ein Ergebnis von unglaublichem Wert – nicht jedes einzelne Kriterium der 200+ Ranking-Elemente ist enthalten, es ist meine Meinung, dass 90-95% des Wissens benötigt werden, um Goolge's Ranking-Algorithmus abzubilden. «
Heraus kam auch eine Liste der 10 meistgenannten und von Expertenmeinung als wichtigste positive Einflussfaktoren festgehaltenen Kriterien:
» Top 10 Positive Factors
1. Keyword Use in Title Tag
2. Anchor Text of Inbound Link
3. Global Link Popularity of Site
4. Age of Site
5. Link Popularity within the Site'…
6. Topical Relevance of Inbound Lin…
7. Link Popularity of Site in Topic…
8. Keyword Use in Body Text
9. Global Link Popularity of Linkin…
10. Rate of New Inbound Links to Site «
Die Top 5 der negativen Einflussfaktoren:
» Top 5 Negative Factors
1. Server is Often Inaccessible to …
2. Content Very Similar or Duplicat…
3. External Links to Low Quality/Sp…
4. Duplicate Title/Meta Tags on Man…
5. Overuse of Targeted Keywords (St… «
Die gesamte Übersicht mit allen Fragen bzw. Einflussfaktoren findet ihr hier. Dort gibt's dann auch die originalen Texte, die Meinungen der Experten und noch viele weitere Informationen.
[via: PixelGangster]