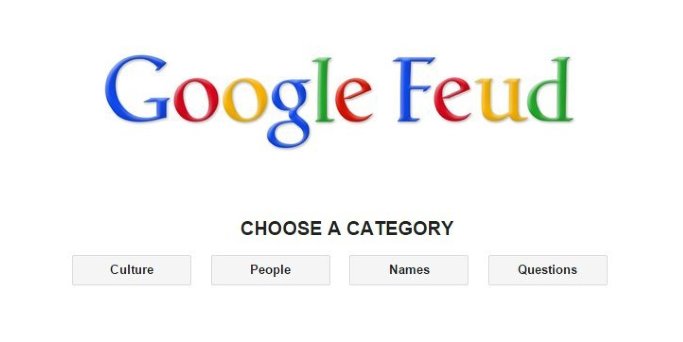 Tagtäglich wird Google nach allem Erdenklichen befragt. Das Motiv ist dabei egal: ob als Inspirationsquelle, als eine schnelle Lösungsfindung für abrupte Gedächtnislücken oder aus anderen kuriosen Gründen.
Um uns unsere Suche zu vereinfachen, gibt Google immer Vorschläge für die Vervollständigung unserer Suchanfrage – Google Suggest genannt. Bei Google Feud wird der Spieß umgedreht: Wir bekommen die ersten Worte von einem Namen oder einer Frage vorgegeben und müssen raten, welche Autocomplete-Vorschläge uns Google dafür geben würde.
Für jede richtige Antwort gibt es Punkte. Je höher die Anzahl der tatsächlichen Suchanfragen bei Google, umso höher die Punktzahl.
Also das perfekte Spiel für die Mittagspause mit den Kollegen.
Hier ein Beispiel zum Aufwärmen:
Indiana Jones and the … ? – Tja, was würde uns Google hier wohl vorschlagen? 😉
Viel Spaß und jetzt spielen!