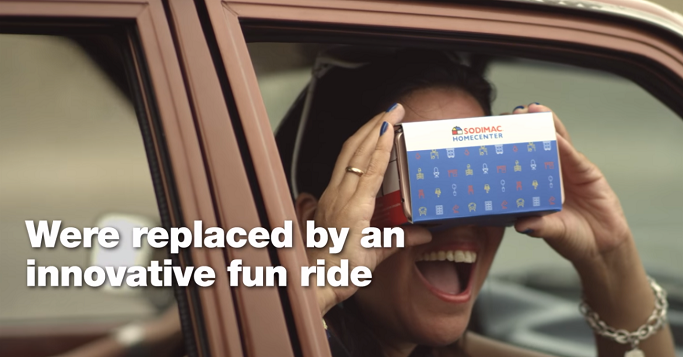 Virtual Reality beschreibt die Schaffung einer computerbasierten, virtuellen Umgebung in der realen Welt. Durch die Weiterentwicklung dieser virtuellen Realität entstehen nicht nur in der Industrie 4.0 vermehrt Plattform-Ökonomien, sondern auch vielzählige, kreative Werbemöglichkeiten.
Das Unternehmen Sodimac hat nun unter dem Motto »to have fun not only on the beach but also on the long road to get there« ein unglaubliches VR-Erlebnis in Peru geschaffen.
An der panamerikanischen Autobahn, die am häufigsten befahrene Straße im Sommer in Peru, reihen sich dutzende klassische Werbetafeln aneinander. Das aus Chile stammende Unternehmen bietet den tausenden Reisenden der Panamericana VR-Brillen an, die es den Mitfahrern ermöglicht, über 20 Animationen aus einem virtuellen Katalog zu erkunden.
Die Brillen werden von den Sodimac-Mitarbeitern während der stundenlangen Staus verteilt. Aber sieh selbst, denn Bilder sagen mehr als tausend Worte:
Auch wir bieten dir ein faszinierendes VR-Erlebnis. Wie wäre es mit einem Rundgang durch die dotSource-Agenturflächen?
Du willst keine Neuigkeiten mehr verpassen? Dann abonniere unseren Handelskraft WhatsApp Newsletter, um bei allen digitalen Trends und Innovationen auf dem neusten Stand zu bleiben.