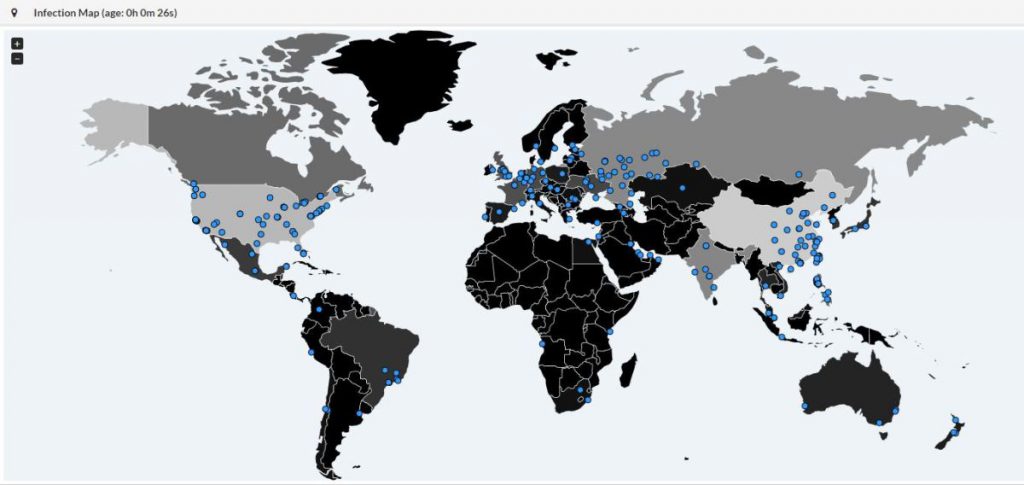 Vor einer Woche waren wir relativ ruhig und zufrieden mit unseren digitalen Leben. Aber der rücksichtlose Cyberangriff durch die Malware WannaCry hat uns aufgeweckt. (Zumindest wollen wir das hoffen).

Rund 200.000 Geräte in mehr als 150 Ländern sind von diesem Erpressungs-Trojaner betroffen und was uns auffällt ist, dass die Mehrheit der infizierten Computer nicht zu Einzelpersonen gehören, sondern zu großen Unternehmen wie Telefonica, Fedex, Deutsche Bahn und dem britischen Gesundheitssystem NHS.

Das Interessante dabei ist, dass die einfache Registrierung einer Domain die Verbreitung fast stoppte. Die geniale Idee kostete 9,77 Euro und wurde von einem Sicherheitsexperten "zufällig" (wie er selbst auf Twitter erklärt) gefunden.
I will confess that I was unaware registering the domain would stop the malware until after i registered it, so initially it was accidental.

— MalwareTech (@MalwareTechBlog) 13 May 2017 «
Der größte Cyberangriff bisher hat uns vor Augen geführt, wie verwundbar unsere hypervernetzte Gesellschaft ist. Es ist jedoch nicht an der Zeit ängstlich zu werden. Es ist Zeit, Antworten zu finden und Präventionsmaßnahmen umzusetzen, weil das erst der Anfang war.