Die Jobsuche ist eine anstrengende und zeitaufwendige Aufgabe. Oft sind verschiedene Lebensläufe und Anschreiben erforderlich. Dafür ist es allerdings wesentlich Zeit und viel Inspiration zu haben, um den (möglicherweise) zukünftigen Arbeitgeber auf sich Aufmerksam zu machen.
Der Brite @TechnicallyRon, der diesen langweiligen und mühsamen Prozess leid war, hat Googles Autovervollständigung genutzt, um seinen Lebenslauf auszufüllen. Wie das Experiment funktioniert hat? Traumhaft! – sein Lebenslauf ging viral.
I needed to update my CV so I did it all through google autocomplete and soon I will have every job pic.twitter.com/pjCBtUhtmw

— TechnicallyRon (@TechnicallyRon) 29 June 2017 «
Seine Idee wurde schnell kopiert und auf andere Sprachen angepasst. Auch auf Deutsch!
Mal dreist die geniale #autocompleteCV-Idee geklaut und auf Deutsch versucht … @TechnicallyRon tried it in German – great idea 😉 pic.twitter.com/XjiBgY4SAq

— Stefan Epler (@stefanepler) 5 July 2017 «
Woher kommen die unterschiedlichen Begriffe?
Laut Google stammen die Begriffe aus unserer aktuellen Sucheingabe, aus relevanten Google-Suchen, die in der Vergangenheit ausgeführt wurden sowie aus Trendthemen, die beliebt in unserer Region sind.
Auch wir Handelskraft-Autoren wurden von Googles Autovervollständigungs-Fieber angesteckt und haben ebenfalls unseren eigenen Lebenslauf ausprobiert. Na geht doch!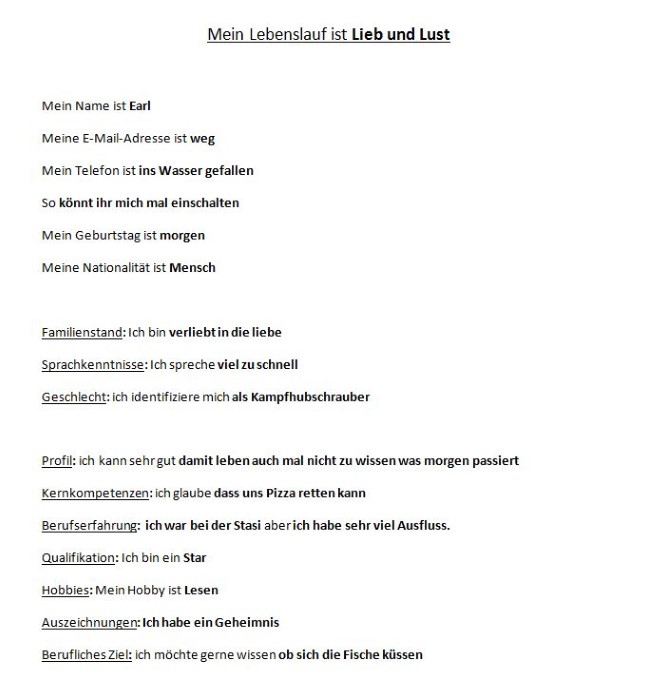 Ob @TechnicallyRon endlich seinen Traumjob gefunden hat? Würdet ihr die Lösung nutzen, wenn ihr verzweifelt wärt?