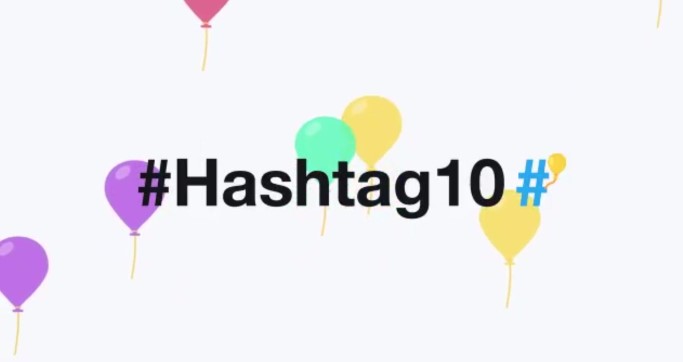 Wenn wir auf 2007 zurückschauen und merken, wie sehr und wie schnell die Internet-Kommunikation sich in dieser kurzen Zeitspanne entwickelt hat, können wir nur staunen.

Damals steckte Twitter noch in den Kinderschuhen, unser Handelskraft-Blog erschien zum ersten Mal und die Smartphone-Nutzung war noch nicht verbreitet. Dann, am 23. August 2007, hatte der US-Amerikaner Chris Messina die Idee mit dem Doppelkreuz Diskussionsthemen und Gruppen auf Twitter besser zu sortieren. Unten könnt ihr den Tweet mit dem ersten Hashtag (#barcamp) in der Geschichte sehen:
how do you feel about using # (pound) for groups. As in #barcamp [msg]?

— ⌗ChrisMessina (@chrismessina) 23 August 2007 «
Seitdem wurde das Hashtag schrittweise ein Teil unserer digitalen Kommunikation. Die Nutzer neuer sozialer Netzwerke wie Instagram und Pinterest haben von diesem Rautenzeichen profitiert. Instragam Fotos sind durch zahlreiche Hashtags wie #foodporn oder #picoftheday beschrieben.

Im Zuge der Etablierung des Hashtags wurden die Vorteile dieser Markierung auch von zahlreichen anderen Diensten genutzt:
Der Begriff "Trending Topic" wird als Beliebtheits-Indikator eines Themas oder einer Kampagne genutzt, um damit in die Öffentlichkeit zu treten. #PokemonGo, #Brexit oder #yeswecan sind nur ein paar Beispiele dafür.
Während Sportübertragungen aber auch TV-Shows: Beispielweise kann man unter einem Hashtag kommentieren wie das Spiel läuft und somit das Spiel interaktiver erleben. #BRAGER nach dem 7-1 in der #WM2014, #Rio2016 (dessen Verwendung auf wenige Unternehmen beschränkt war wegen der #Rule40) oder #WirfuerD sind gute Beispiele.


Heading back to Campo Bahia …. hungry for more :)! #DFBTeam #DFB #wc2014 #BRAGER #RT if you are hungry as well … pic.twitter.com/8TrwIXeLEZ

— Per Mertesacker (@mertesacker) 9 July 2014 «

Im kommerziellen Kampagnen als Teil der Marketing-Aktionen von Marken. Damit möchten sie die Kommunikation zwischen Kunden und Unternehmen vereinfachen, das Engagement ankurbeln, die Messbarkeit der Kampagne ermöglichen sowie die Marke stärken. #shareacoke von CocaCola, #likeagirl von Dove oder #IceBucketChallenge von ALS sind erfolgreich Beispiele.


You came, you tweeted, you set a record. Thanks for coming together for the Largest Twitter "Cheers!" #ShareaCoke pic.twitter.com/5kSnKC6t9K

— Coca-Cola (@CocaCola) 18 September 2015 «
Die neueste Weiterentwicklung des Hashtags ist die Möglichkeit #Emojis als Teil des Hashtags hinzufügen.➡️🏅❤️😃
Ich bin #gespannt, was die Zukunft bringt!
#happybirthday liebes #hashtag!