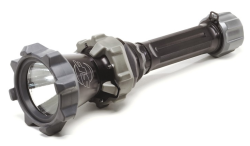 Outdoor Aktivitäten sind ja auch deswegen so beliebt weil sie normalerweise nicht die Welt kosten. Das kann man doch ändern, dachte sich der Hersteller Surefire bei der Entwicklung der Taschenlampe THE BEAST II.
Mit einem Kaufpreis von sagenhaften 5419 Euro ist THE BEAST II nämlich mit an Sicherheit grenzender Wahrscheinlichkeit die teuerste Taschenlampe der Welt.
Der Hersteller rechtfertigt den Preis mit diesen durchaus beeindruckenden technischen Daten:
2300 Lumen mit dem 35 W Gasentladungsbrenner
Mit 2300 Lumen kann man es sich nachts im Zelt auf jeden Fall gemütlich machen. 😉 Aber kann mir bitte mal jemand erklären was ein Gasentladungsbrenner in einer Taschenlampe verloren hat?
Update 2012: Leider ist THE BEAST II nicht mehr erhältlich.