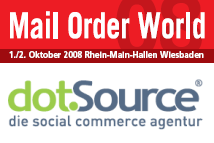 Die Online-Agentur dotSource präsentiert auf der Mail Order World 2008 (am Stand 514; Halle 5) erstmals eine Standardlösung für Social Commerce.
SCOOBOX steht für "Social Commerce Out of the Box" und ist eine standardisierte Lösung als Add-on, die neue und bestehende E-Commerce Systeme nutzerfreundlich und gewinnbringend erweitert. Ausgestattet mit umfangreichen Social Commerce Funktionen fördert SCOOBOX den Aufbau einer aktiven Online-Community. Das Ergebnis ist eine lebendige Shopping-Plattform.
Christian Otto Grötsch, Geschäftsführer der dotSource GmbH, zur Philosophie von SCOOBOX:
» Während im klassischen Online-Shop die Produkte und das Sortiment im Mittelpunkt stehen, richten wir mit SCOOBOX den Blick stärker auf den Kunden. Unsere Lösung eröffnet Nutzern zahlreiche Interaktionsmöglichkeiten. Features zum Meinungsaustausch oder zur Produktbewertung erleichtern Kunden die Kaufentscheidung und verschaffen dem Anbieter mehr Kontrolle über sein Sortiment. Wir ermöglichen Online-Händlern mit SCOOBOX eine effektive Kundenbindung. Wiederkaufraten werden erhöht und der Absatz gesteigert. «
Die dotSource GmbH kooperiert bereits mit den E-Commerce-Softwareherstellern Intershop und Magento. Onlinehändlern steht SCOOBOX in Form eines Moduls zur Verfügung und kann problemlos in das laufende oder neue System integriert werden.
In diesem Zusammenhang erläutert Christian Otto Grötsch:
» Selbstverständlich ist die Anpassung von SCOOBOX auch an andere E-Commerce-Systeme möglich, um eine maßgeschneiderte Social Shopping Plattform betreiben zu können. «
Eine detaillierte Auflistung der vielfältigen Social Commerce Funktionen von SCOOBOX findet ihr in dieser Broschüre.