Die Analysten von Jupiterresearch haben im Auftrag der bekannten Suchmaschinenmarketing Firma iprospect eine Studie zum Verhalten von Suchmaschinenbenutzern angefertigt.
Das Ziel der Untersuchung war es für Marketingtreibende gesicherte Daten, hinsichtlich des Verhaltens von Usern bei der Benutzung der drei größten Suchmaschinen (Google, Yahoo! und MSN), zu gewinnen. Die Studie enthält sowohl statistische Ergebnisse, als auch daraus resultierende Handlungsanweisungen für ein optimiertes Suchmaschinenmarketing.
Die Frage: "When you perform a search on a search engine and are looking over the results, approximately how many results do you typically review before clicking one?", erbrachte folgende Ergebnisse: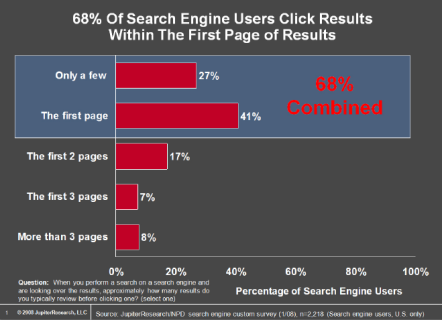 Dass daraus die Schlussfolgerung gezogen wird, dass es aus Vermarkterperspektive besonderst wichtig ist sich mindestens unter den Suchmaschinenergebnissen der ersten Seite zu platzieren, liegt wohl auf der Hand.
Die gesamte Studie gibt es hier als pdf zum kostenfreien Download.
Update: Leider ist die Studie nicht mehr online verfügbar.