Wer bei TOMS Schuhe kauft, beteiligt sich direkt an einem sozialen Projekt denn:
» With every pair you purchase, TOMS will give a pair of new shoes to a child in need. One for One. «
Die Vergabe von Schuhen an bedürftige Kinder soll vor vielen Krankheiten schützen, die durch verschmutzte Erde verursacht werden. In dem Blog von TOMS sind einige Geschichten zu dem Projekt so wie andere Veranstaltungen von und mit dem Unternehmen aufgeführt.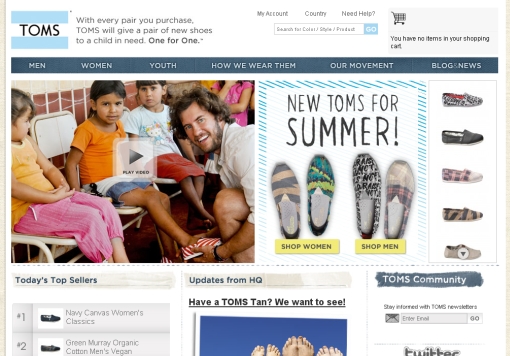 In dem Onlineshop selbst werden hauptsächlich bequeme und schicke Canvas-Schuhe verkauft. Ein ausführliches Interview zu der Philosophie des in Kalifornien ansässigen Unternehmens mit Gründer Blake Mycoskie ist ebenso auf der Seite zu finden. Die 2006 ins Leben gerufene Marke ist momentan so erfolgreich, dass sie in einigen US-Modezeitschriften erwähnt und von der Online Zeitung Fast Company auf den 6. Platz der "Most innovative Companies 2010" gewählt wurde.
Frühere Einträge: