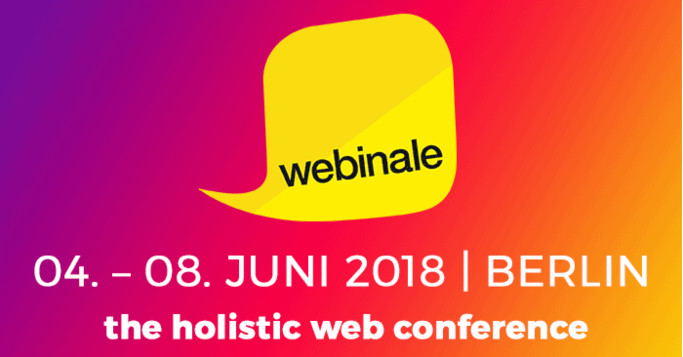 Das Maritime Proarte Hotel in Berlin wird vom 04. bis 08. Juni 2018 wieder zur Crossover-Plattform im Digital Business. Vorträge, Power Workshops und Live-Demos liefern geballtes Know-How für Einsteiger und Profis.
The Holistic Web Conference – Da ist der Name Programm
Die webinale ist die Konferenz für digitale Professionals, Trendsetter und Macher im World Wide Web. Ob Hauptkonferenz oder Powerworkshops – der Blick auf das diesjährige Programm zeigt, dass »holistisch« nicht nur essenzieller Teil des Slogans ist.
Während der Hauptkonferenz vom 05. bis 07. Juni geben über 70 international erfahrene Webprofis und Top-Speaker in mehr als 90 Fachvorträgen Expertenwissen zu folgenden Tracks und Themen weiter: Business Innovation, Online Marketing, User Experience Design, Web Design, Voice Assistants, Agile & Devops und Digital Analytics.
Es geht ganz klar um die ganzheitliche Sicht auf digitale Dos and Don'ts. Neben einem offiziellen Teilnahmezertifikat bieten die ganztägigen Power Workshops am 04. und 08. Juni die Möglichkeit, Wissen in bestehenden und neuen Schlüsseltechnologien, sowie Praxisnähe zu vertiefen. Wieder wird Wissensmanagement ganzheitlich verstanden und vermittelt, denn dank Live Demos und Interaktions-Practice werden alle Erfahrungs-Level abgedeckt – vom Einsteiger bis zum Experten.
Ein Besuch der webinale lohnt also in jedem Fall.
Hier geht es zur Anmeldung!