Ein wenig pathetisch klingt der Anfang der gestrigen Woot-Meldung ja schon, wenn Jason Toon schreibt:
» Today is the first day of the greatest ecommerce experience of your life. This is the day everything changes forever. […] And yea shall the mountains churn and the rivers crumble, and the crunchy shall lie down with the creamy […]. «
Der Grund für diese Aufregung ist Deals.Woot, das gestern ins Leben gerufen wurde.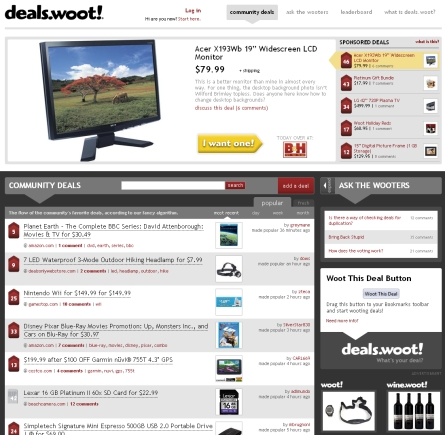 Sieht alles ganz nett und unspektakulär aus, ist dennoch ziemlich beeindruckend. Deals.Woot ist eine community-getriebene Plattform zum Finden, Teilen, Diskutieren und Bewerten, aber nicht etwa Woot-Deals, nein, es geht um Produkte anderer Shops. Und hier wird es extrem spannend, sowohl aus Social-Commerce-Sicht, als auch aus Ads-Sicht:
Das Liveshopping-Portal Woot lässt sich die links oben auf der Plattform angezeigten Produkte von den entsprechenden Shops sponsoren ("Sponsored Deals"). Aber nicht irgendwelche Produkte, wie Woot meint, sondern Produkte, die für die Community relevant sein könnten:
» OK, yes, companies pay a little something to be Sponsored Deals. But we don't allow just any old crap in this section. Sponsored Deals are proposed to us by other retailers, manufacturers, and even other daily deal sites. If we find the deal compelling enough that our members will appreciate us bringing it to their attention, we'll feature it here […]" «
Woot macht hier einen großen Schritt und zeigt einmal mehr auf, wie wichtig gute Ideen für Stand-Alone-Liveshopping-Portale sind. Und Woot geht noch weiter:
» This is the mission our community has been training for: subjecting the rest of the Internet to the deal-seeking prowess you guys display so lethally in our forums every day. […] Instead of us bringing the great deals to you, Deals.Woot is all about you bringing the deals to us. «
It's all about community and user generated content. Vor allem im E-Commerce. Und weil das Ganze nicht nur auf einem Kanal funktionieren kann, müssen auch Shops und Angebote, egal wie spannend sie sein mögen, erkennen, dass es einen Rückkanal geben muss. Und gute Ideen. Woot hat sich mit diesem Schritt wieder sehr spannend gemacht.
Und da momentan viel über das Thema Social Commerce gesprochen und geschrieben wird, kommt das genau richtig. Marktbeobachter sind gerade sehr sensibel.