Marketingaktionen können ganz furchtbar sein, so hat Burger King zum kollektiven Entsorgen von Freundschaften auf Facebook aufgerufen und dafür 25 000 Whopper auf den Tisch gelegt.
Marketingaktionen können allerdings auch wunderbar sein: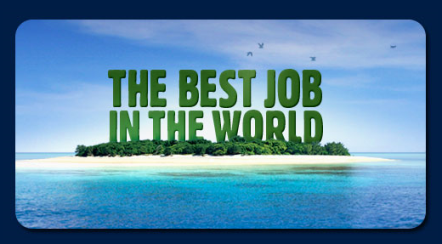 Das Tourismusamt Queensland (Australien) hat sich eine Kampagne ausgedacht, die vor allem das Fernweh der Europäer bedienen wird. Die Stellenausschreibung klingt wie ein feuchter Traum: Gesucht wird jemand, der ein halbes Jahr lang für umgerechnet 75 475,50 Euro (150 000 AUD) den "Island Caretaker" macht. Dieses Angebot ging um die Welt und jeder titelte es gleich: The best job in the world. Die Seite, auf der es alle Bewerbungsinformationen gibt, heißt islandreefjob.com und ist seit gestern lahm gelegt, da schätzungsweise 30-300 Klicks pro Sekunde einfach zuviel sind.
Es sind die Inseln am Great Barrier Reef. Inhalt des Jobs wird es sein, in einer Villa mit Pool zu wohnen, diesen Pool hin und wieder zu reinigen, die Fische zu füttern, Post einzusammeln, die Inseln zu erkunden und darüber zu berichten (via Blog?).
Jeder kann sich bewerben via Video. Großartig. Hier noch das Video dazu: