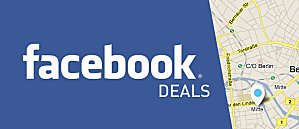 Als ernsthafte Konkurrenz zu Groupon und anderen Dealanbietern wurden die Facebook Deals zeitweise gehandelt. Nun wurde der Dienst von Facebook eingestellt – nach gerade mal vier Monaten.
Ähnlich wie bei dem größten Couponanbieter konnten auf dem sozialen Netzwerk für einen bestimmten Zeitraum Angebote eingestellt werden. Der Vorteil lag hier bei den viralen Effekten. Die Deals konnten mit anderen Freunden über den Share Button geteilt oder über den Like Button im eigenen Newsfeed veröffentlich werden. Über die Gründe für das Aus kann spekuliert werden, nicht genügend Manpower sei in das Projekt gesteckt worden, so Exciting Commerce:

» "Doch wie Twitter scheint auch Facebook den Arbeitsaufwand unterschätzt und nicht genügend Man-Power in das Deals-Programm gesteckt zu haben" «
Eine andere Annahme bezieht sich auf die Sättigung des Marktes:
» The market also may have simply been over-saturated with daily deals after waves of Groupon clones flooded in seeking the business' big margins. Facebook didn't seem to figure out how to get users actively discussing Deals and recruiting friends in the same place they could buy them — what could have been a crucial differentiator. «
Interessant ist in dieser Hinsicht auch sicherlich die Entwicklung der neu gelaunchten Google Offers zu beobachten.
Aus aktuellem Anlass haben wir von Handelskraft in den heutigen Lesetipps alle wichtigen Informationen zu den Facebook Deals und anderen Diensten zusammengestellt:
PS: Um einige Missverständnisse aus der Welt zu schaffen – die Facebook Check-In-Deals bleiben weiterhin bestehen. Damit ist es auch zukünftig möglich via  Smartphone, Angebote aus der realen Umgebung zu erhalten. Zudem können nun Ortsangaben zu jedem Pinnwand-Eintrag angegeben werden.
Unsere Lesetipps der Woche: